WHAT IS SCRAMBLS?
Whether your concern is privacy, copyright infringement, accidental disclosure or compliance, scrambls provides the ability to take control of who can access the content that you post online or distribute electronically. Scrambls protects data for your business that is often overlooked in data protection initiatives – data that is posted online (blog posts, Facebook, Salesforce.com), files posted to the cloud (Dropbox, Skydrive), or data in motion (email, flash drives, FTP).


HOW DOES SCRAMBLS WORK?
Scrambls encrypts and decrypts data with the permissions controlled by group membership. The "keys" that are needed to read a web post or descramble a file are held by a scrambls server. When the content needs to be displayed in clear text or when a file is descrambled, scrambls applies the key to make it readable again. The business administrator owns the keys and can set the policy for when and for whom to make them available through simple group management.


HOW DOES SCRAMBLS WORK FOR BUSINESSES?
The scrambls enterprise console gives you the ability to manage scrambls accounts for all of your business users. You first create groups for access either by employee email addresses or through more detailed rules, deploy the client install or have users download it, and you're good to go! As an administrator, you choose which accounts have access to what content, when the content is available, and for how long it is available. Scrambls is extensible through an SDK so that the groups and policies can be used by your business's internal applications too.
See below for a user account view of the scrambls enterprise console: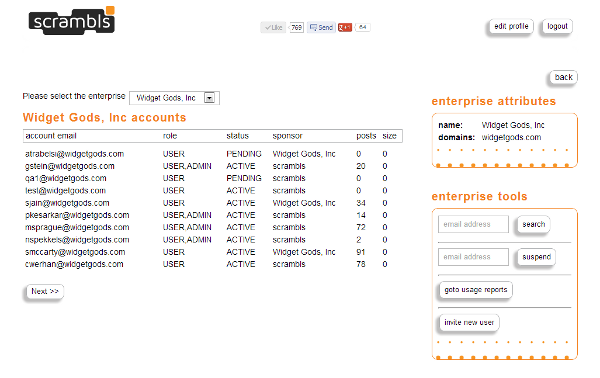 When your users enter status updates, tweets, blog posts and more, scrambls empowers them to choose which group can see their postings. Sharing sensitive data in files also becomes as easy as 1-2-3. Users scramble a file, choose a group, and send it. Wherever the file goes – email, cloud storage, flash drive, FTP – it stays scrambled. Only a person in the allowed group can descramble it. If an employee leaves the company, simply deactivate their account, and they no longer have access to scrambled web content or files. If someone new needs to have access, add them to a group. All previous content scrambled for that group will be available to the new person immediately – no matter where it is stored or when it was created.


PROTECTION ON THE WEB, FOR CLOUD STORAGE, AND BEYOND
The difficulty of tracking data increases the risk to businesses when employees inadvertently email or post sensitive information where it can then fall into the wrong hands. Scrambls for Enterprise allows you to take back control of all your data. With scrambls for enterprise, your employees can:
Protect files that are sent electronically and ensure compliance for sensitive data
Protect files that are stored in the cloud
Protect data that is posted online and control who can view it
Share scrambled files without requiring advanced key exchange or notice to the recipient
Use public tools for communication (like Facebook, LinkedIn, or Dropbox) while keeping the contents private
Most importantly, scrambls for enterprise allows you to:
Manage the use of scrambls within your organization
Audit the usage of scrambls – in summary or at the user level
Optionally, host and control your own private scrambls key server
GET STARTED WITH SCRAMBLS FOR YOUR BUSINESS
Deploy scrambls in your business today. Please contact a sales representative to get started: [email protected].