OUR MISSION
Our mission is to make sharing smarter. We believe you should understand what you're sharing and whom you're sharing it with. Scrambls strives to make sharing as transparent and comfortable an experience as possible.
OUR ORGANIZATION
The web has recently seen a fantastic explosion in the ease and utility of online sharing. From political discourse to cake recipes, everything gets posted online. This evolution of information distribution has made it so much easier to stay in touch with friends, colleagues and ideas. However, it has come with a cost. The majority of posts are aggregated across a number of huge social media services that reserve the right read, distribute and archive the content as they see fit. Files are usually shared in the clear and can easily fall into the wrong hands.
Scrambls enables users to seamlessly assert lasting control over their posts and files. Some conversations are really meant to be private. Some posts maybe shouldn't have been posted. Some content is worthy of copyright. Groups and affiliations change. Scrambls strives to be an easy-to-use tool spanning across the Internet to give you control over your participation in online media and online distribution of your importan files.
Scrambls works for online posts and files interchangeably. Using the same group controls as you use for scrambling social media posts, you can easily scramble a file or folder before emailing it or posting it to an online service or drive.
HOW IT WORKS
Scrambls works by introducing a 'key' needed to read a post or open a protected file. The original content is encoded before being delivered to the web. The key gets stored at a scrambls servers while the encoded post goes to the service provider.
When the post is later displayed, or the file is opened, scrambls applies the key to make it readable again. The author owns these keys and can set the policy for whom and when to make them available.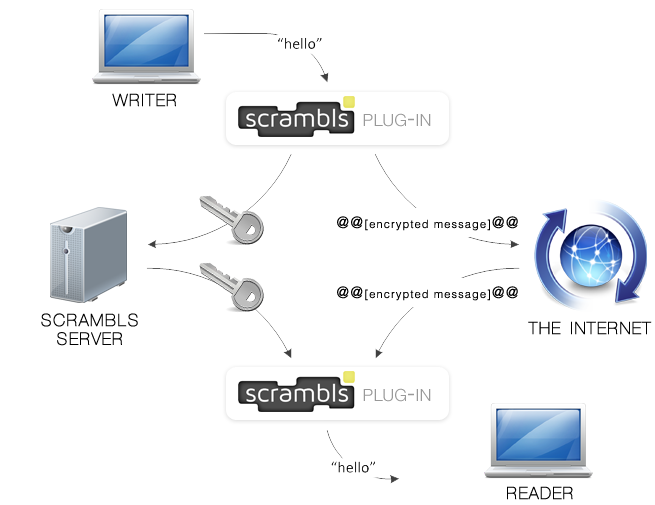 OUR COMMITMENT
We are committed to providing a free service which is tailored to the needs of our users. Please let us know what you think or drop suggestions at [email protected]. Our business is based on providing advanced features so the core service can remain free.
We are serious about privacy. Our role is to help you control your content, not to read it or advertise with it. We have constructed this service as a utility. You own the keys. If you choose to leave the service we will provide you with the keys to manually access anything posted with scrambls.